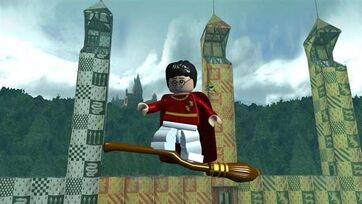 A Broom is a standard flying vehicle that can only be flew well by certain characters. It is used in the famous game for Harry Potter fans called "Quidditch".
To go up, hold 'A'.
To go back down, stop moving or release the 'A' button.
To move around, move the nunchuk in the corresponding direction to the way you want to go.
Ad blocker interference detected!
Wikia is a free-to-use site that makes money from advertising. We have a modified experience for viewers using ad blockers

Wikia is not accessible if you've made further modifications. Remove the custom ad blocker rule(s) and the page will load as expected.